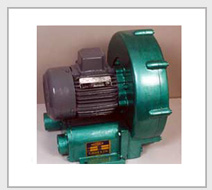 C. Bole & Co. offers Hi-Speed Regenerative Turbine Blowers for handling air, other non-explosive gases and gas-air mixture completely oil free at low volume flow and medium pressure range.

TURBINE BLOWERS
It has a Unique working principle that it is fitted with the rotor, as the rotor rotates, the air entrapped between the rotor blades is radially and circumferentially accelerated and pushed in to the side cavity. Here it is pressurised and pushed back to the rotor blades where it is again radially and circumferentially accelerated. It will then pushed along a special path through the Impeller and side channel till it is discharged into the discharge port. Thus leaving the blade tip, the air flow around the housing contours back down to the root of the succeeding the blade where the flow pattern is repeated. The Impeller rotates with absolutely no contact between it and the casing. This means that no lubrication is required, guaranteeing 100% oil free operation. Since there is only one moving part it has got maximum operating reliability and totally maintenance free.
It has constructive features like most of the elements of these blowers are Impeller duly dynamically balanced, casing, silencer & fitted with Electric Motor. The multivane Impellers and casing are manufactured from high grade cast aluminium alloy. It's unique shape and size ensures high efficiency. It is fitted with Silencer at both inlet as well as outlet port to minimise the noise level. As these blowers are sensitive to foreign particles, cardige type inlet air filter is used.
Salient features of Turbine Blowers are namely - It has no metal to metal contact, No internal lubrication, Rugged Construction, Fluent flow of the oil free air, Non-pilsating flow, Low Maintenance cost, Occupy less space, Rotating in both the directions, Compact and light construction.
It is used in applications like in Hatcheries, Fisheries, Aeration for Aquaculture, Industrial Vacuum cleaning, Dust collector, Aeration of fluid through bubbling, Hot Air Supplies, Air Cooling and sucking of water vapour in cable industries, Water Treatment Plants, Sewage Plants, Packaging Machines, Textile Machines, Pneumatic Conveying, Tube Conveying, Hot Whirpools, Printing Machines, Material Lifting and Holding, in Dental Chairs as well as in Computers.